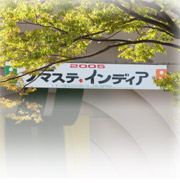 Namaste India, Japan's largest Indian festival, will be held for the 28th time this year. Namaste India was canceled for three years in 2020, 2021, and 2022 due to the coronavirus pandemic, but it will be held for the first time in four years.
In 1991 India opened its market after Cold war age of the world. Though Japanese chamber of commerce recommended to develop bisiness. with India, since India was Socialist country earlier ,Japanese business community who already was there had a delayed its start.
To understand India more and increase the liking ,we felt, was the important step for making economic development , therefore,we made our maximum efforts for cultural exchange. In 1993 Namaste India .started in the office of Asia Club and the Japan Chamber of Commerce with the partnership of Committee of Japan India Economic relation. However, this could only continue till 2004. Due to long recession of Japanese economy. it was not possible to carry on this cultural event. NPO to promote Indo-Japan Cultural relaations took up the matter to continue this memorable event by shifting the office to its own place. The site was also changed to Yoyogi park from Tukiji Honganji Temple.
Embassy of India kindly acknowledged 2011,Namaste India held in Japan was the biggest one in the whole world out India. Economic relation between India and Japan is rapidly developing . India decided to take Shinkansen now. Under the circumstance, cultural relation should be better and stronger. So, we are now trying to offer more attractive event.
We will make the event to let the people experience whole India from various area. Knowledge, Food, Culture, Economy, Indian dance, Music, Lecture, Saree wearing, Yoga, Ayur Veda, Mehendi, Goods sale, Bookfair of India , Tea Corner, spice, Indian Restaurants, Tourism, Travel Information, are offered.
Seminar House in the Culture booth was doubled since 2015 year ago. Various presentation about India will take place such as Lecture and workshop of Yoga, workshop of Indian classical dance, Cultural introduction of Ainu ethnic minorities. Biratori Society of Hokkaido which Preserves the culture of Ainu ,the ancient inhabitants of Japan had been participating in Namaste Event from 2007. Since India has more than 500 ethnic minorities ,we understood it is important to introduce our Ainu people for deeper mutual understanding. Japanese Parliament recognized Ainu as our original inhabitants.
Elephant park, Folk art's park, Adults and kid's park, and we will be introduced as new items for entertainment for all kinds of guests who wants to know more about India. On stage, dancers specially sent by Govt of India ICCR will perform along with Bollywood dance, seven classical dance of India, such as Bharat Natyam ,Classical Musical Instruments performance of North India such as Sitar, dance, Veena, of South Indian Music, dance, folkdance which involve almost 600 participants for gorgeous performance. Bodhisena Booth, Ainu Booth are directly held by Namaste India Office. Namaste India committees will arrange information house which show the latest Indian Film. NGO and NPO group concerning India are planning to have their own Booth. Onagawa town received the kind help from 47 Rescue team of India at the time of Northeast Japan Earthquake disaster and the relation is continuing till today. You can see the details here.
India Japan association, Govt. of India Tourist office, Air India, Bank of India, State Bank of India etc will have each booth this year too. The return Air ticket to India will be provided by air india and many other attractive items will be offered in our Loto Counter.
We request you to come and visit this Festival of India bringing your family, relatives and friends.